In our last update, we designed an experience to help you discover new leaders and learn about team performance. More than that, it was possible to create a stimulating work environment between the peers: creating challenges and collaboration were the key points.
When combining gamification with the smart indicator you create opportunities to engage people towards better results in an enjoyable way.
In this new update, you get all the team highlights together and we keep you and all posted about the last moves the team and co-workers are doing.
All the highlights in one place
The new
spotlight
that covers the outstanding people.
Now, it's possible to explore our special space to discover the good moves and who is behind the scenes.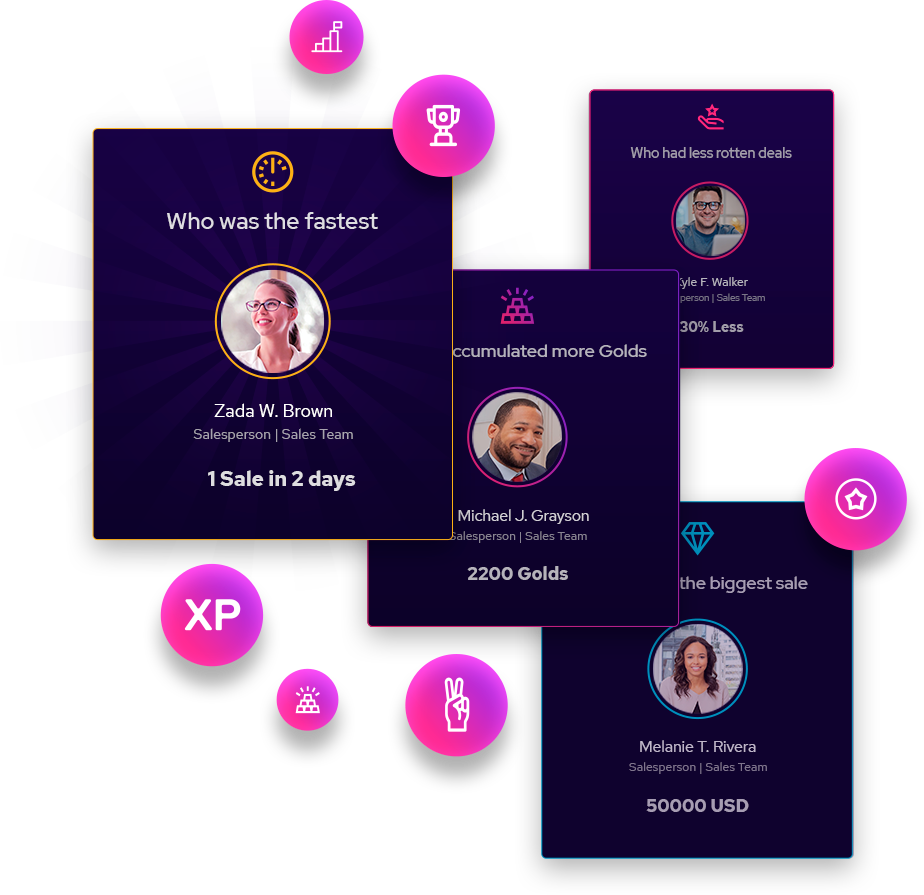 The highlights perspective are:
Gamification: discover who are the players that levels-up the game. You can come upon:
→ Who won more achievements;
→ Who accumulated more points, XPs;
Productivity: keeping eyes on the right numbers is essential. Here you bring to light who is behind them:
→ Who did the biggest sales;
→ Who converted more leads;
Quota Cycle Overall: having a big picture can give you an overview about the key points related to the cycle period worked. You can uncover the:
→ Number of Challenges completed;
→ Number of Quests completed;
Eyes on the relevant moves
To keep you posted about the latest main actions and rewards from your colleague workers, it's possible to follow our notifications from your account. This way, you won't miss any update.
The best part: you can try for free
Join Gamifier to promote a productive culture within the sales team. If you are using Pipedrive or HubSpot sales CRM, connect with us instantly. Easy as ABC.