We are celebrating 1 year of partnership with Pipedrive!
Through this time, both Gamifier and Pipedrive have developed a lot to make things easier for those who use our solution. The CRM is spread worldwide and help a huge number of sales teams to organize their process and make better outcomes.
This is Gamifier's first partnership, and we are so proud to have it. In 9 months of real action, our gamification integrated with Pipedrive has already assisted many teams throughout the world to boost productivity, engagement with the CRM and increase results.
Check the impact we have done so far: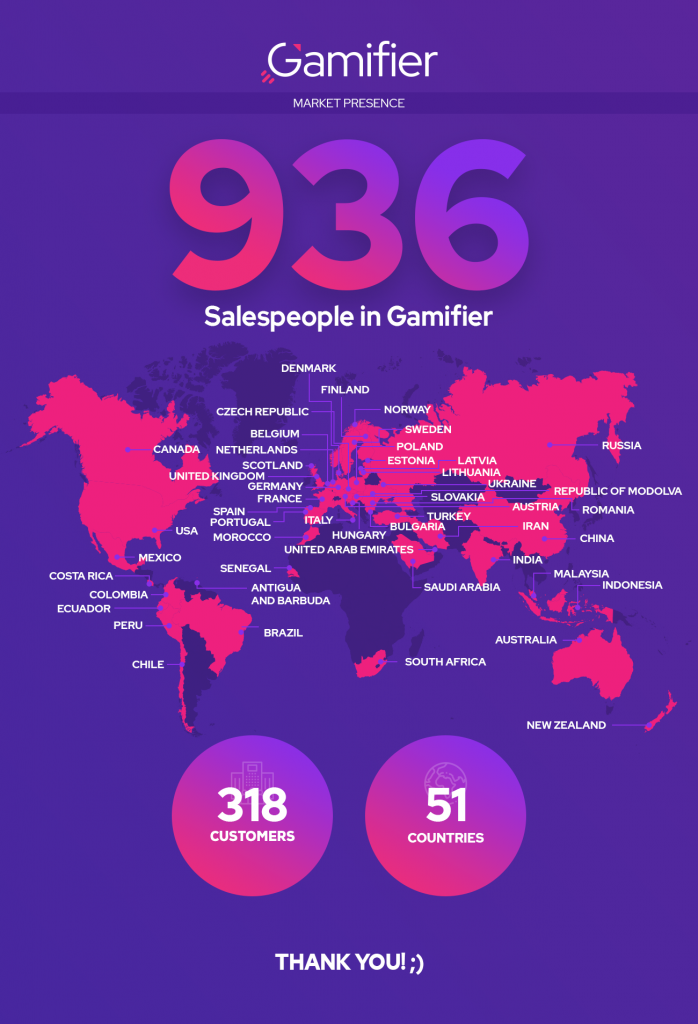 Wanna see the benefits of gamification in your company? Here is some good news: to celebrate our 1-year anniversary, we have extended the free trial from 7 to 30 days!
* Valid until October 10th, 2019.
Not a Pipedrive user yet? Check some reasons you should employ this CRM in your company:
Used by over 90,000 companies in 179 countries, this is one of the favorite CRMs around the world.
It is so popular because it works!
Pipedrive CRM was designed by salespeople and has simplicity as its base, making the sales process visual. It allows you to grow your business by gathering all sales information in one place to understand lost businesses, identify opportunities and predict results.
Check some of the main features you can use in Pipedrive:
Pipeline management
Email integration
Activity management
Lead generation
API
Data import & export
Sales reporting
Sales forecasting
Mobile apps
Google apps integration
Integrations (such as Gamifier!)
Customization
Products
Web forms
Try the Gamifier + Pipedrive integration and let your business grow better and faster!